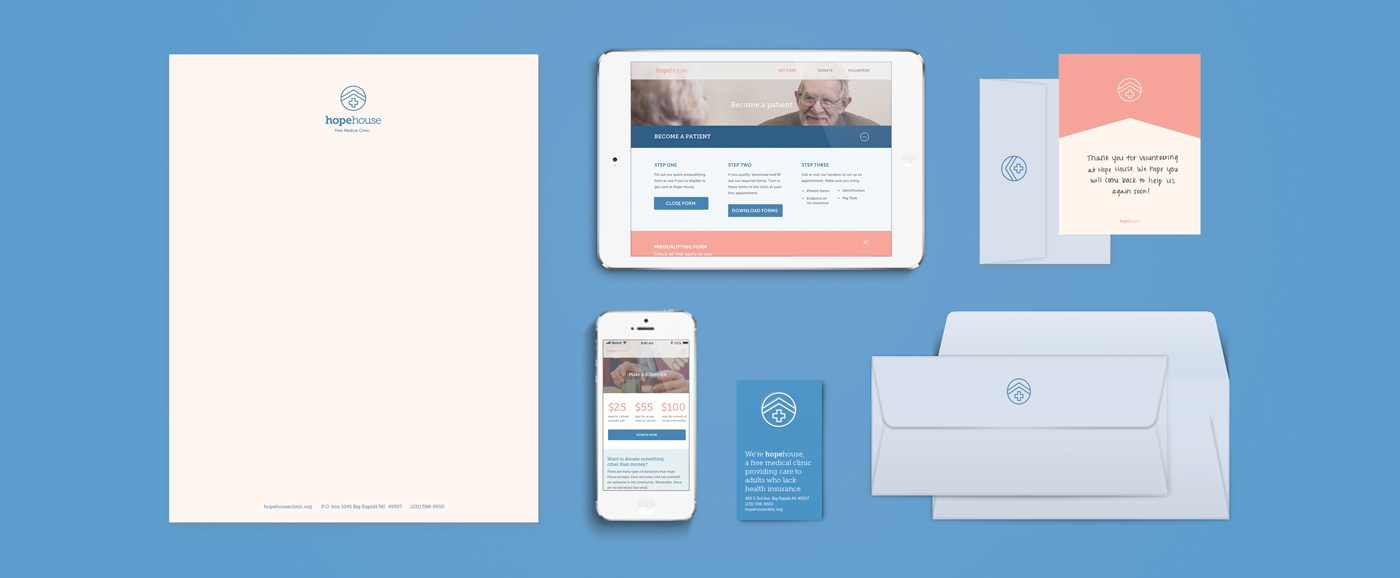 Hope House
Design Project Center
Senior project
Spring 2018
Designers: Rachel VanAken & Carlie Vanklompenberg
Hope House is a faith based, nonprofit, outreach ministry in Big Rapids, MI. The client's original request was a functional website, but their brand presence was lacking. My teammate and I determined that Hope House would benefit from a strong brand presence across different media types to increase community awareness.
PATIENTS
50/50 Male and Female
Most, if not all, have phones
60% have internet at home
They want to receive quality
medical care with no bills
Be guided to take steps forward
in their life
VOLUNTEERS
Consist of doctors, spiritual
guides, receptionists, etc.

 

Some were past patients
Want to use their talents to
give back to the community
Help patients better their
situations and lives
DONORS
Want to learn about what
Hope House does
They want to know what their
money is being used for
Want to see compelling, relatable,
and personal stories
Need options for donating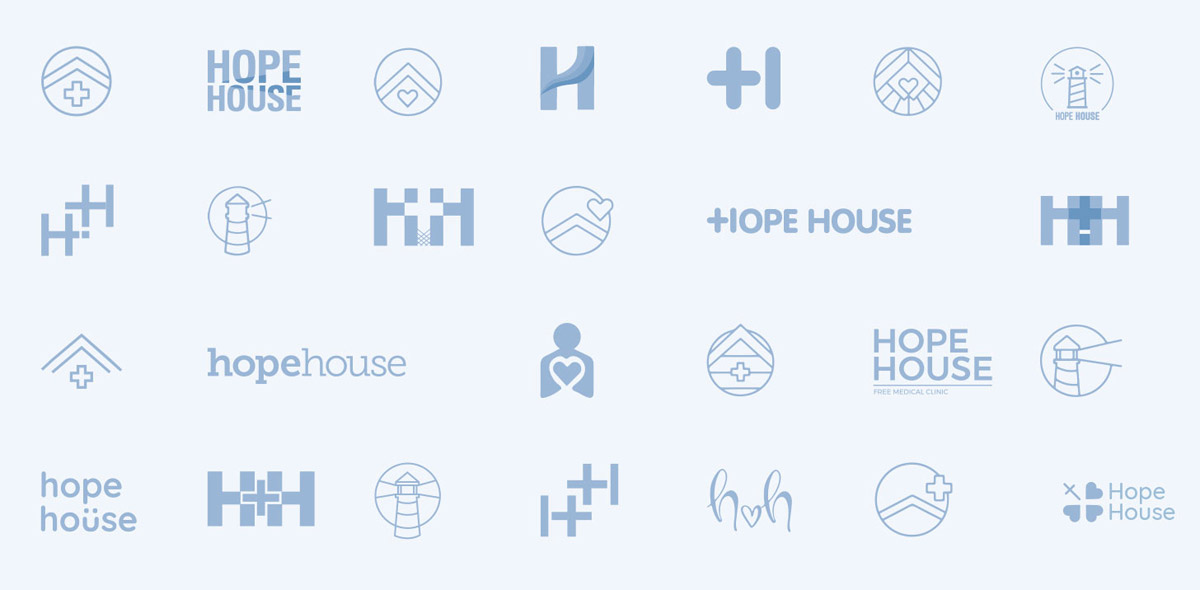 LOGO VARIATIONS
The final goal for the logo was to create an abstract representation of a house and a medical center. There were over 100 variations before coming to the final logo.
CONCEPT ONE
Network of help recognizes the connections and partnerships Hope House has within the community. The goal of this concept is to feel professional and medical.
CONCEPT TWO
A friend in need, is a friend indeed, recognizes the nonjudgmental side of Hope House. The volunteers stress on the fact that they treat everyone the same no matter their situation.
CONCEPT THREE
Light the path recognizes the religious side of Hope House. The goal of this concept is to feel compassionate, emotional, inspiring, and supportive.
BROCHURE, FRONT
BROCHURE, FOLDED INSIDE

BROCHURE, UNFOLDED INSIDE
Since Mecosta county is the 3rd poorest county in Michigan, some Hope House patients may not have phones or computers to access the website. We created this brochure to give patients all of the information they might need.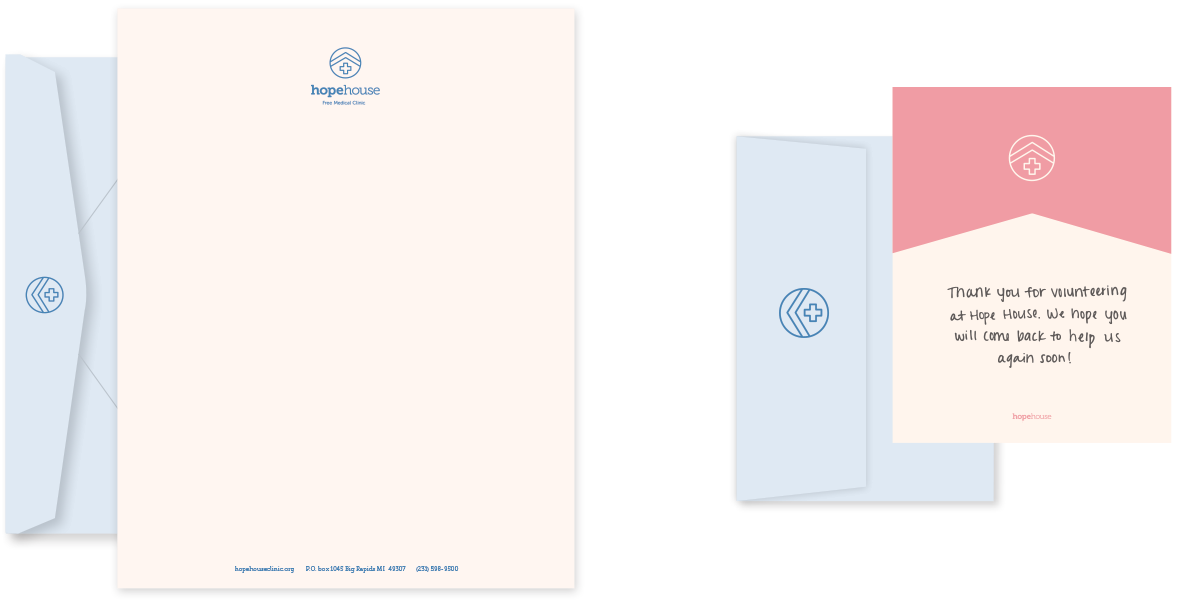 LETTERHEAD AND THANK YOU CARD
The letterhead and thank you card both have matching envelopes and paper stock. The Thank you cards were left blank so the client could write in a personal message.
BUSINESS CARD
A generic business card works best for Hope House since everyone is a volunteer and volunteers can change often.

T-SHIRT FRONT
These shirts will be worn by volunteers at the clinic and community events.
T-SHIRT BACK
They're more friendly than the traditional white coat that doctors wear, which is relaxing for patients.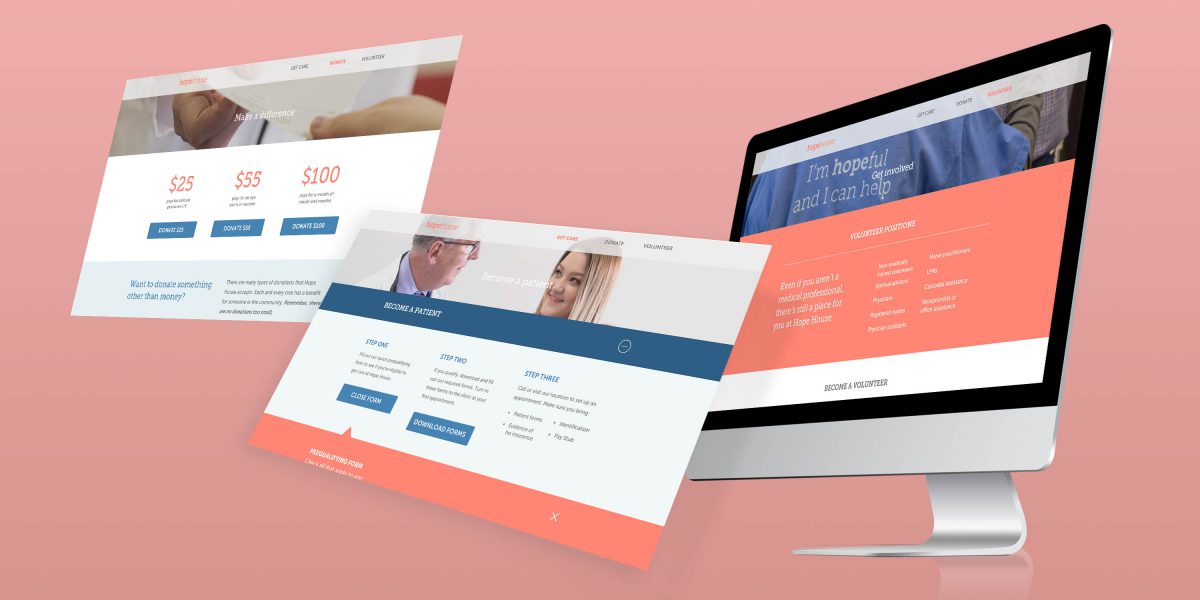 HOPE HOUSE WEBSITE
The Hope House website is the main source of information for patients, donors, and volunteers. The website was entirely designed and developed by the students. Visit the site at: http://hopehouseclinic.org