Your future is bright
OUR ALUMNI ARE SOME OF THE MOST SUCCESSFUL PROFESSIONALS IN BUSINESS
Our alumni work at some of the top companies in the United States. We have a 100% placement rate for graduates who are actively seeking a job upon graduation. Check out some of the places our alumni are working:
AKQA, Washington DC
Amazon, Seattle WA
Atomic Object, Grand Rapids MI
Auxiliary Design, Grand Rapids MI
Bissell, Grand Rapids MI
Box, San Francisco CA
Brightly, Grand Rapids MI
Carnevale, Grand Rapids MI
Concept A, Spring Lake MI
DesignVox, Grand Rapids MI
Duo Security, Ann Arbor MI
Elevator Up, Grand Rapids MI
Frederick Meijer Gardens Grand Rapids, MI
Gensler, San Francisco CA
Haworth, Holland MI
Herman Miller, Holland MI
HUGE, Atlanta GA
IBM, Austin TX
Massive Change Network, Evanston IL
Meijer, Grand Rapids MI
Microsoft, Redmond WA
Multiple, Chicago IL
Newell Brands, Kalamazoo MI
Oneupweb, Traverse City MI
Peopledesign, Grand Rapids MI
Plastiq, San Francisco CA
Square One Design, Grand Rapids MI
T.Rowe Price, Baltimore MD
OpenDigital, Grand Rapids MI
VML, Kalamazoo, MI
Whirlpool, Benton Harbor MI
Williams Group, Grand Rapids MI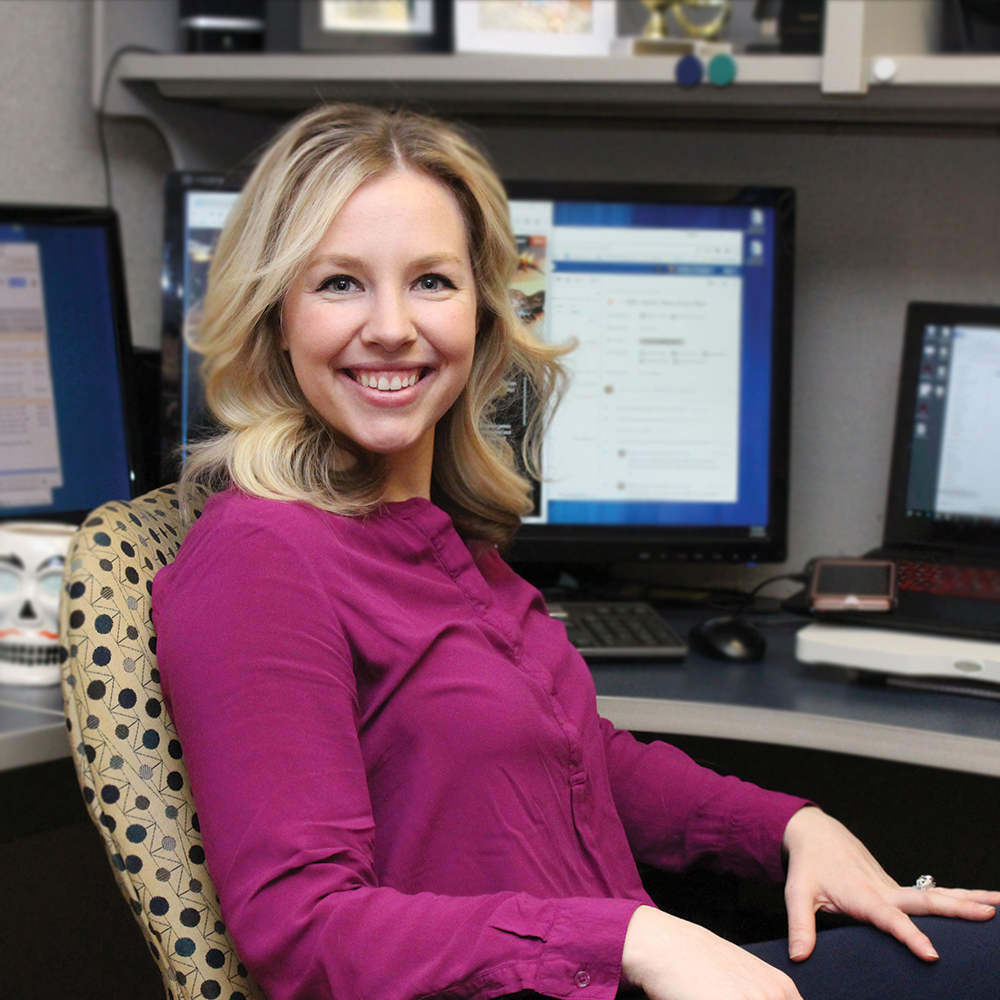 Kathleen Spangler
Post graduation, I landed my first "adult" job at a small design firm in Grosse Pointe Woods, where I continued my desire to be a junior graphic designer. This position allowed me to learn more about print design for larger editorials like Crane's Detroit Business, brochures, billboards, and other advertisements. They also specialized in branding materials for law firms and smaller business in the Metro Detroit area. A couple years later, I accepted a new graphic design position on the in-house marketing team at a company that develops and publishes PC Games and Software. Throughout the 8 years I have been here, I have been promoted 5 times, to my current position as the Marketing Operations Manager. In this position, I manage the entire marketing team (web developers, designers, copywriters) and community managers, along with running the major product announcements and releases.
"I have seen several portfolios over the years from designers, and none of them come close to comparing to the standard that Ferris held (and still holds) its students to. Colleagues and other professionals I have spoken to are continuously impressed with the curriculum Ferris requires from their design students and it definitely shows through come time to interview and present. I also think it is great that business classes are a requirement for our degree as they have played a huge part in my current position and future positions."