GRSAF MindShare Event '18
Design Project Center
Senior project
Spring 2018
Designers: McKenna McIntyre, Jen Bancino, & Connor Vondette
Our objective was to create a concept and design an event for MindShare 2018: an annual gala to raise money for the Grand Rapids Student Advancement Foundation. The event had to include everything from a website to invitations, to environmental graphics.
Our solution was the concept, "Build on a foundation for student success" is about the idea of building blocks, and how the foundation provides components (such as opportunities and supplies) for the students of GRPS.
OPTION 1: BUILD
The bold geometric shapes come together and build the foundation of GRSAF. A special mark was made of shapes to create an iconic "15" of the MindShare event to celebrate their 15 year anniversary.
OPTION 2: INVEST
Investing is a continual cycle of giving that helps build. The more we repeat the pattern of investing, the stronger our community and future will be. Strengthening and investing in GRSAF and GRPS is investing in our community of tomorrow.
OPTION 3: CONNECT
The idea of connection is that the more points, people, or resources that you link together, the stronger the unit. The more that we come together and connect, the stronger the foundation and the schools can be.
PLEDGE FORMS
Online, downloadable, pledge card forms were created for attendees to easily donate from home if they cannot attend the event.
PRINT INVITATION
The print invitation utilizes folds that "build" as well as shapes and information to build within the piece.
WEBSITE
The web page was created with a strict grid to keep the geometric block theme consistent to easily navigate through the website experience.
DIGITAL INVITES
Digital invites were sent out, three, two, and one month out from the event to give the potential attendees information to entice them to come visit the event.
BANNERS
Banners were created to give attendees information on the Foundation's initiatives as a quick read to invite them into the event space.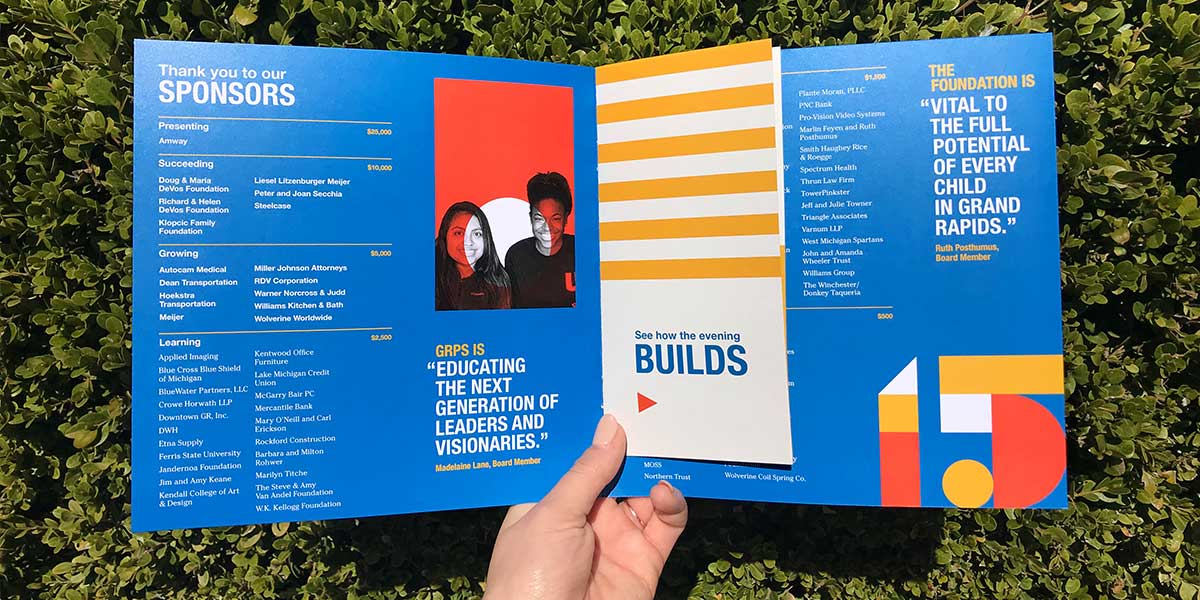 EVENT PROGRAM
The event program is a very important piece to navigate each guest through the evening. The goal of the program was to gather several print pieces that typically clutter the table, into one cohesive booklet.
FOAM 15
The giant foam 15 was placed on the stage as a focal point to celebrate the Foundation's 15 years of helping the Grand Rapids Public Schools and to help celebrate all of their initiatives.