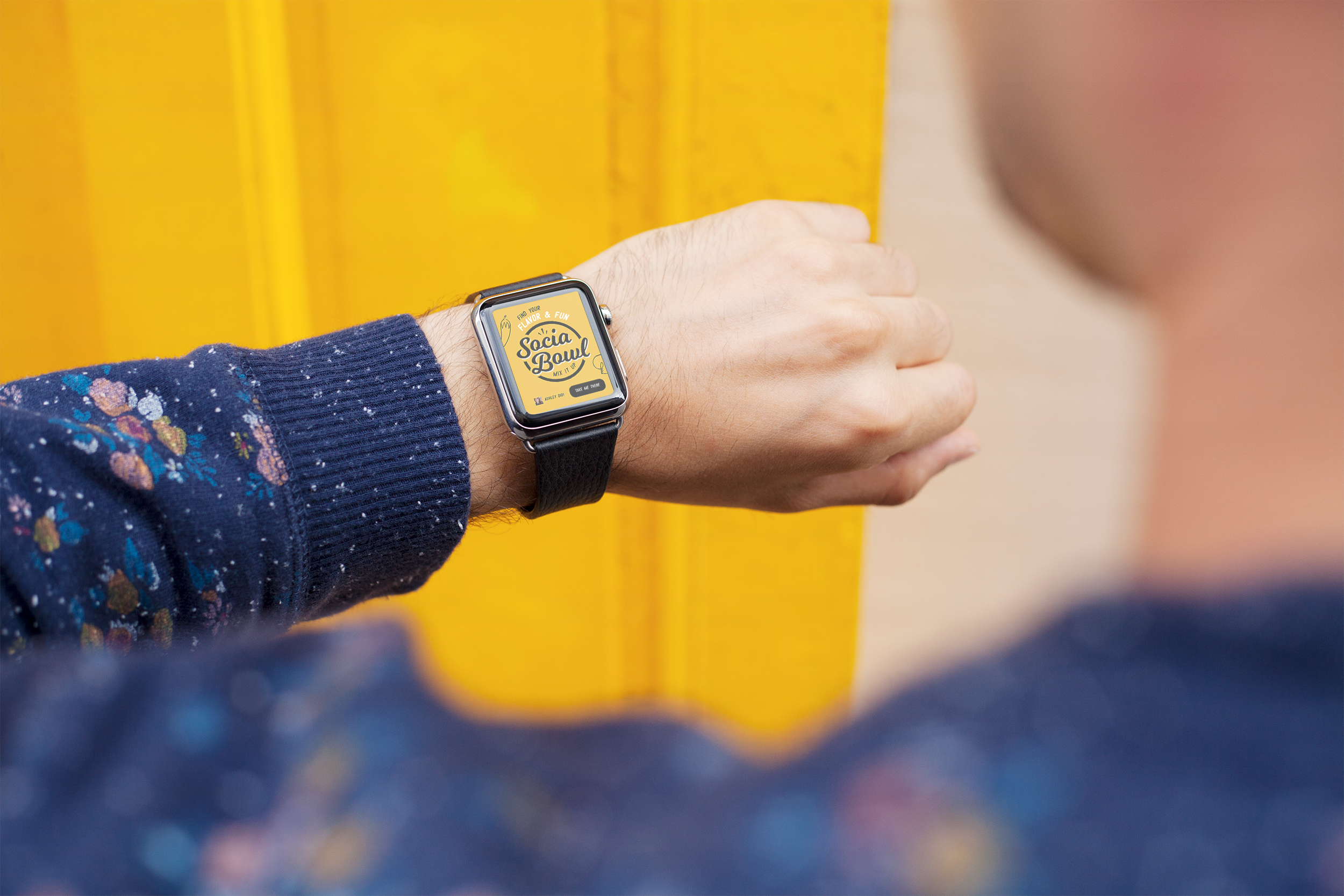 Sociabowl
Junior project
Spring 2017
Designers: Jen Bancino & Natalie Dixon
Sociabowl is a place where mixing up new flavors are equally as important as mixing up new and old conversations. Sharing experiences through social media platforms are done so through many channels. These interactive devices will be used to alert individuals before they see Sociabowl, upon entry, within the dining tables, posted on the walls, in several unique features of the mobile app, and on several social media platforms.
ATTRACTION: APPLE WATCH
Potential customers are notified about Socaibowl when in close proximity of the restaurant.
ATTRACTION: WEBSITE
The interface for Sociabowl integrates illustrations and lockups to represent the fun, friendly tone of Sociabowl. A website is typically the first interaction a user has with your brand and is the first place they search to view the menu.
ENTRY: STAFF SHIRTS
Staff shirts are designed to remind guests to "Share the fun and #besociabowl". Personalized staff buttons are also unique to each staff uniform.
ENTRY: STAFF BUTTONS
Personalized staff buttons to add to their uniform based on their own flavor profiles. These buttons can spark up a conversation between the customers and their server.
ENGAGEMENT: TABLE, BUILD  YOUR BOWL
Guests are able to drag ingredients within each build process to create their bowl.
ENGAGEMENT: TABLE, GAMES
Games within the table are interactive and use gestures to play. Guests are able to pause and resume the game at any time in the visit.
ENGAGEMENT: TABLE, REFILL DRINK
Drinks are weighed on the table and when reaching a certain level there will be a prompt that asks you what action you would like to take for the refill.
ENGAGEMENT: SERVICE, SOCIAL, PROGRESS
At all times when a drink is present on the table, guests are able to select the service icon.
Prompts ask guests if they would like to share their bowl on social media, or post to the Sociabowl life feed wall.
ENGAGEMENT: FINISH MEAL
Bowls are also weighed and when reaching a certain weight there will be a prompt asking if the guest would like "dessert", "the bill", or to look at the "menu".
ENGAGEMENT: PAY FOR A FRIEND
Once the guest prompts that they would like the bill, a payment screen will appear. There will also be an option to pay for a friend as well, this is another way our guests can be Sociabowl.
ENGAGEMENT: LIVE FEED WALL
Posts are filtered and sent through from the interactive tables and also through all social media platforms. Guests can share their experience on the numerous live feed walls.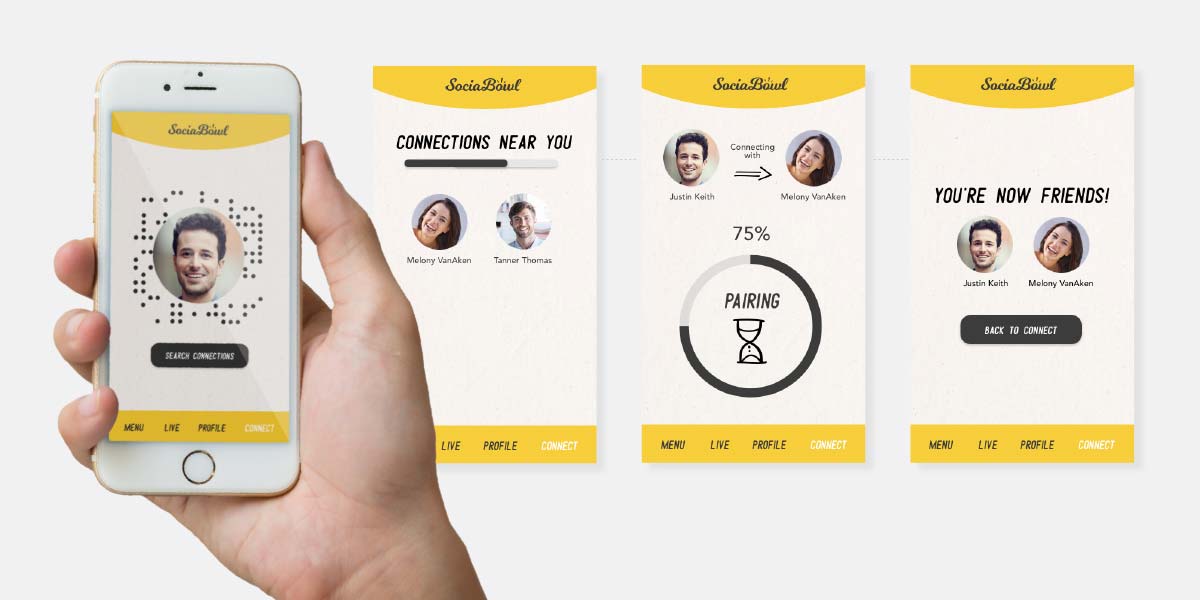 ENGAGEMENT: MOBILE APP
Guests can add friend with our code scanning feature to add them to their personal profile to invite to reservations in the future.
EXIT: COLLATERAL
Takeout bags are vibrant and allow customers to bring home the fun, playful, tone of Sociabowl.
EXIT: APPLE WATCH
Customers may receive an apple watch notification upon exit to share their experience through social media.
EXTENSION: WEBSITE
You can invite current friends to meet up again or connect through social media to add new friends to your list for a meet-up.
Friends can send out invites to join a reservation at Sociabowl. Push notifications will pop up through the app, social media, or email to accept an invitation to a Sociabowl reservation.