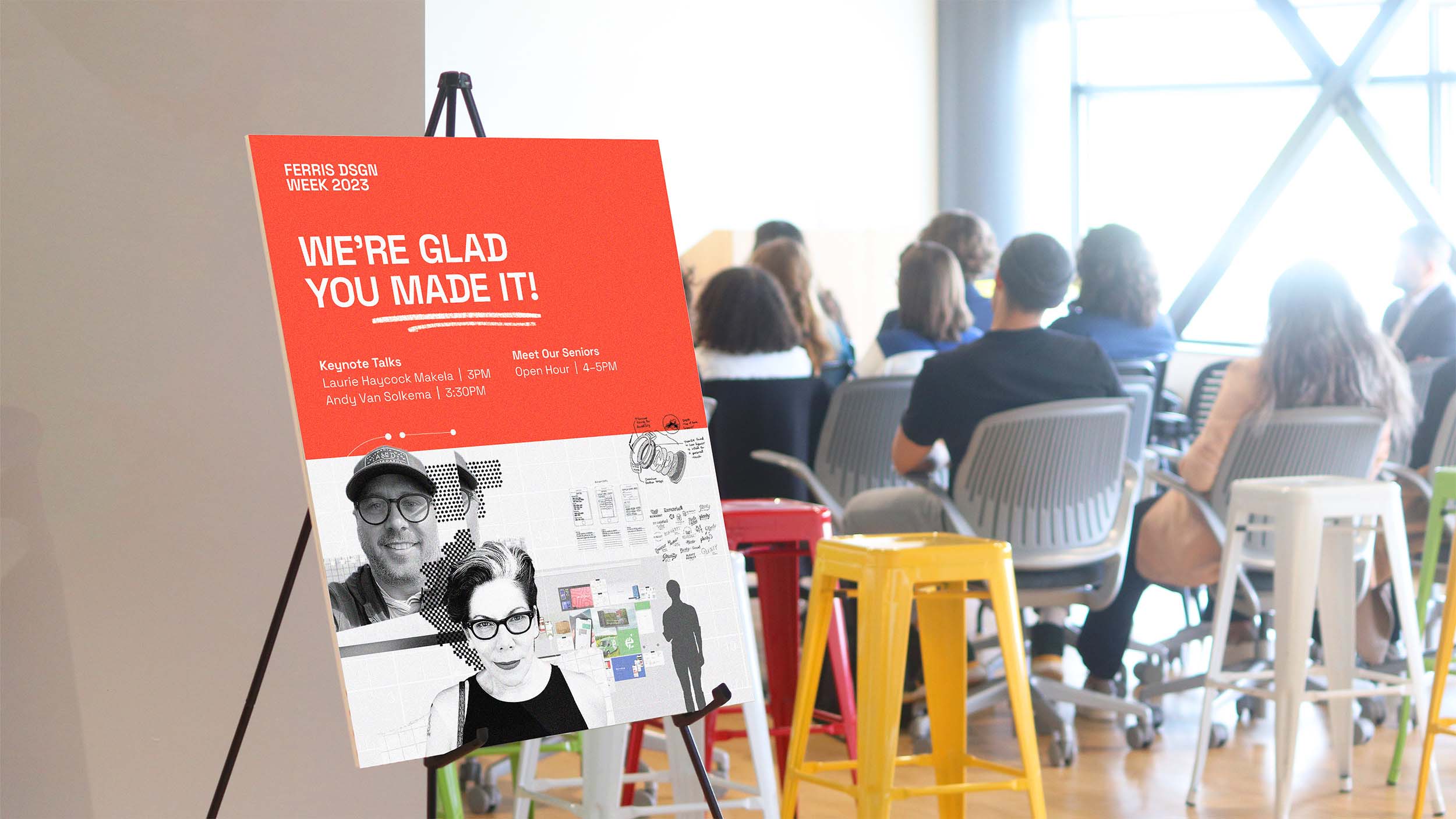 Ferris DSGN Week 2023
Design Project Center
Senior project
Spring 2023
DYLAN BOWDEN, KELSIE SCHARP, KATIE SHANTZ
Designing, planning, and producing the visual identity for Ferris DSGN Week 2023. Our team's main objective was to design this series of events to appeal to design professionals who would attend, design professors who acted as our clients, and the Ferris senior design class who would showcase their work during these events.
Ferris Design Week is a yearly design showcase that seniors in the design program at Ferris State University take part in to network and present final projects.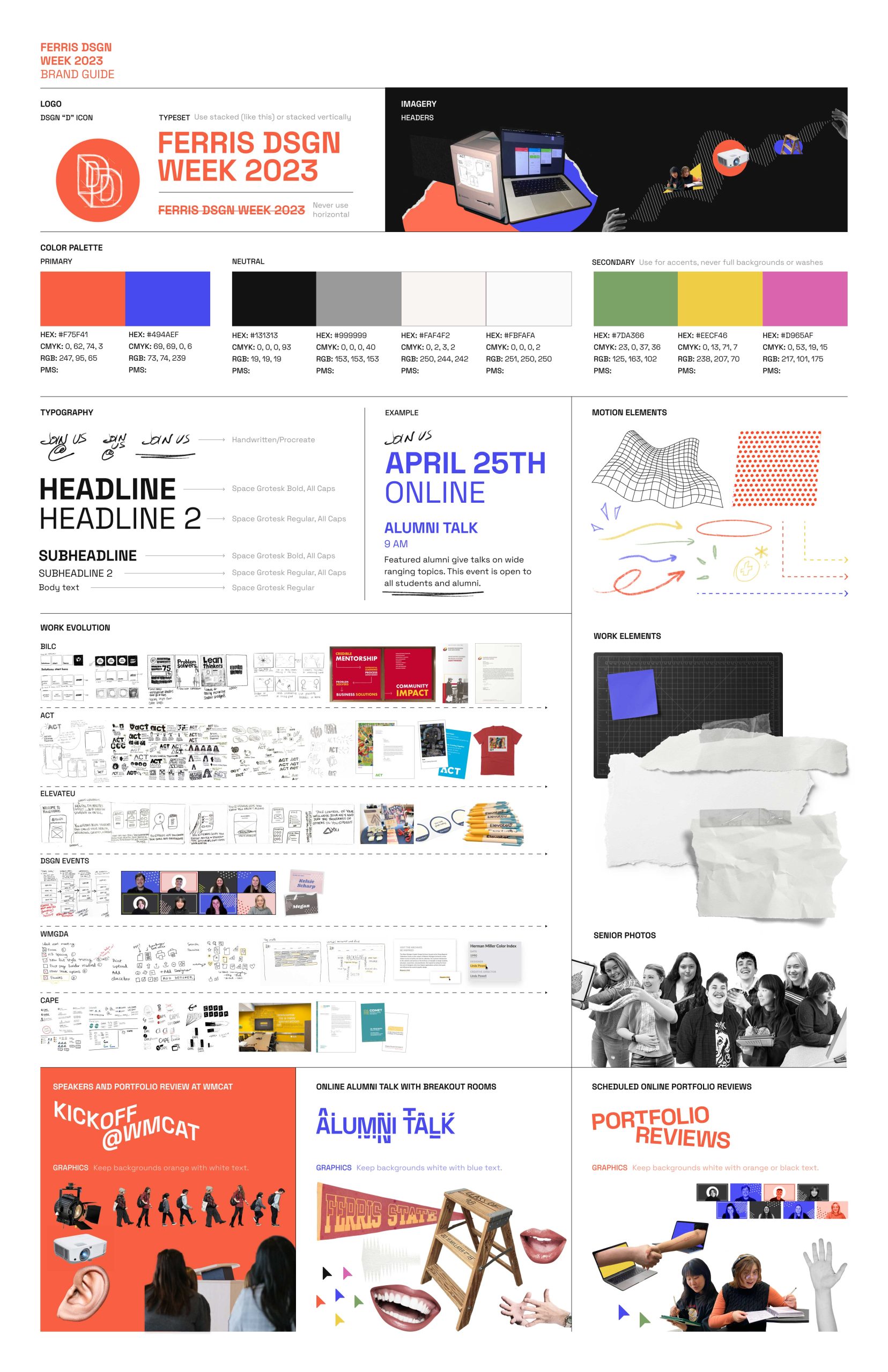 The visuals for Ferris DSGN Week 2023 showcase how our senior class has evolved and changed throughout the Ferris Design Program as well as our raw process for creating projects. The brand guide for this visual identity includes a series of sketches, process work, and final solutions, something that would resonate with our target audience (design professionals). 

For Ferris DSGN Week, we had 3 sets of emails sent out to our invite list. The initial email, the "dumb" email, and the full email. Each email had a separate goal. The initial email was to get the events onto the invitees' radars.
The dumb email was to provide minimal details as the events got closer.
The full email included all of the details for Ferris DSGN Week.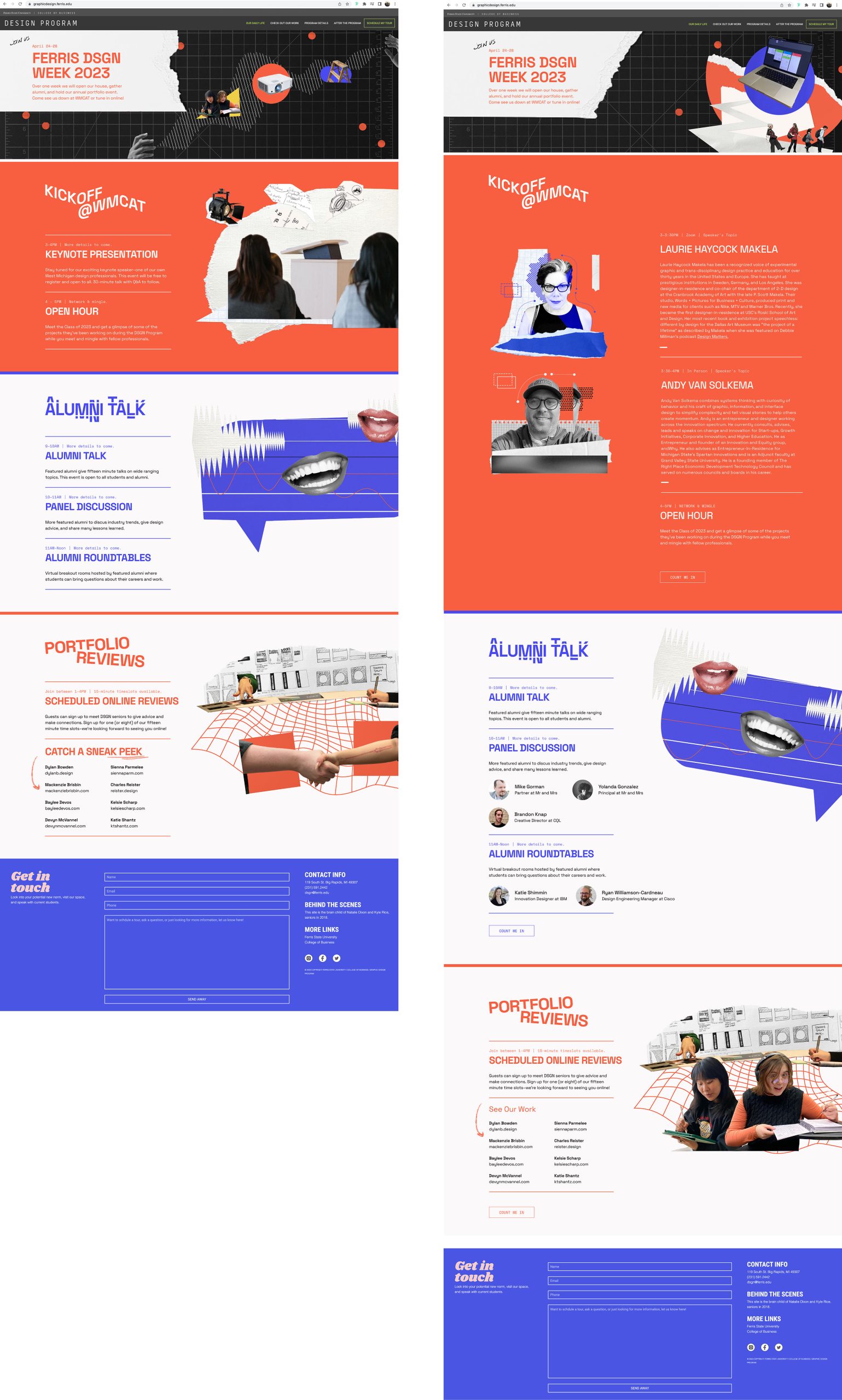 Our website evolved with the amount of details presented and the graphics as the events got closer.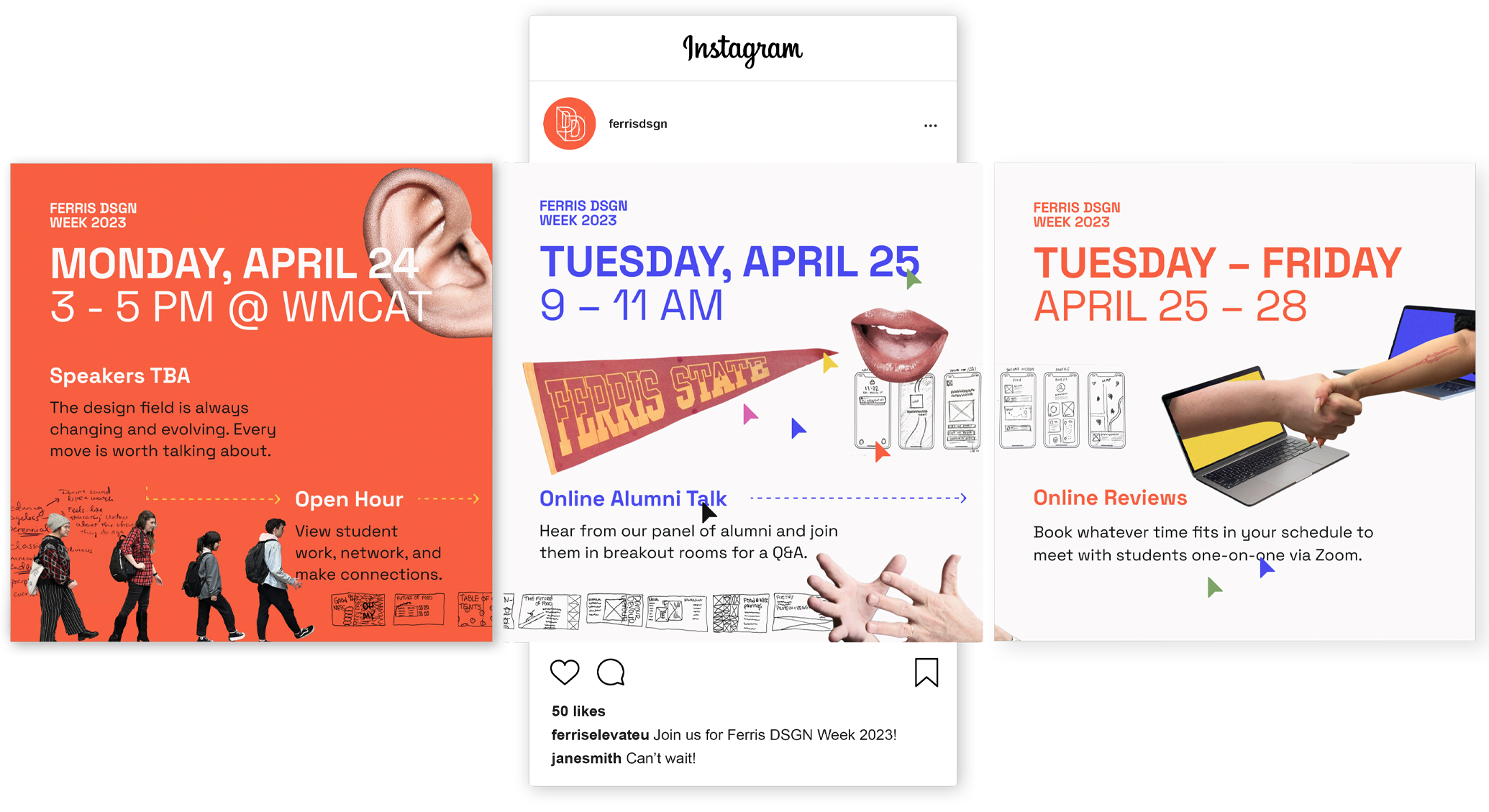 Our team designed Instagram posts to help viewers get to know this year's senior class, the senior client projects, and event details.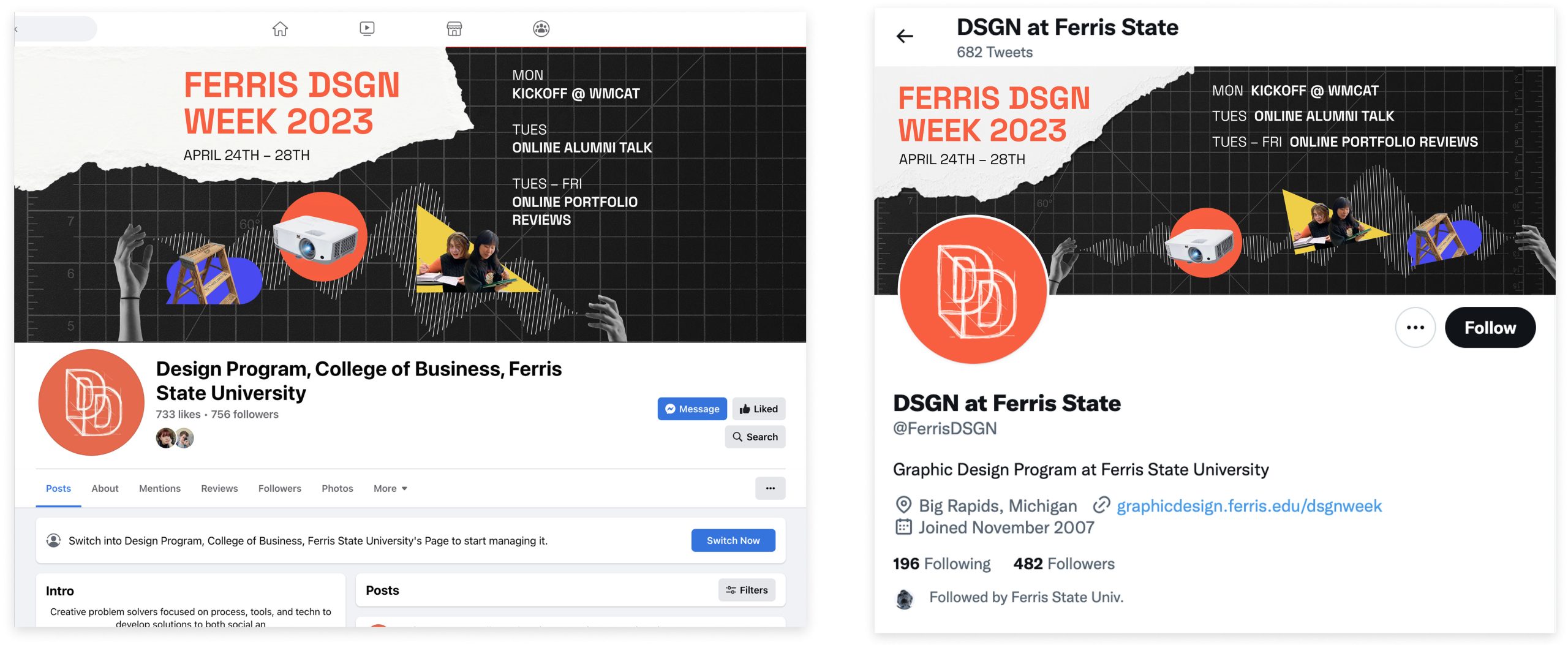 Our team designed social headers for our program's Facebook and Twitter accounts.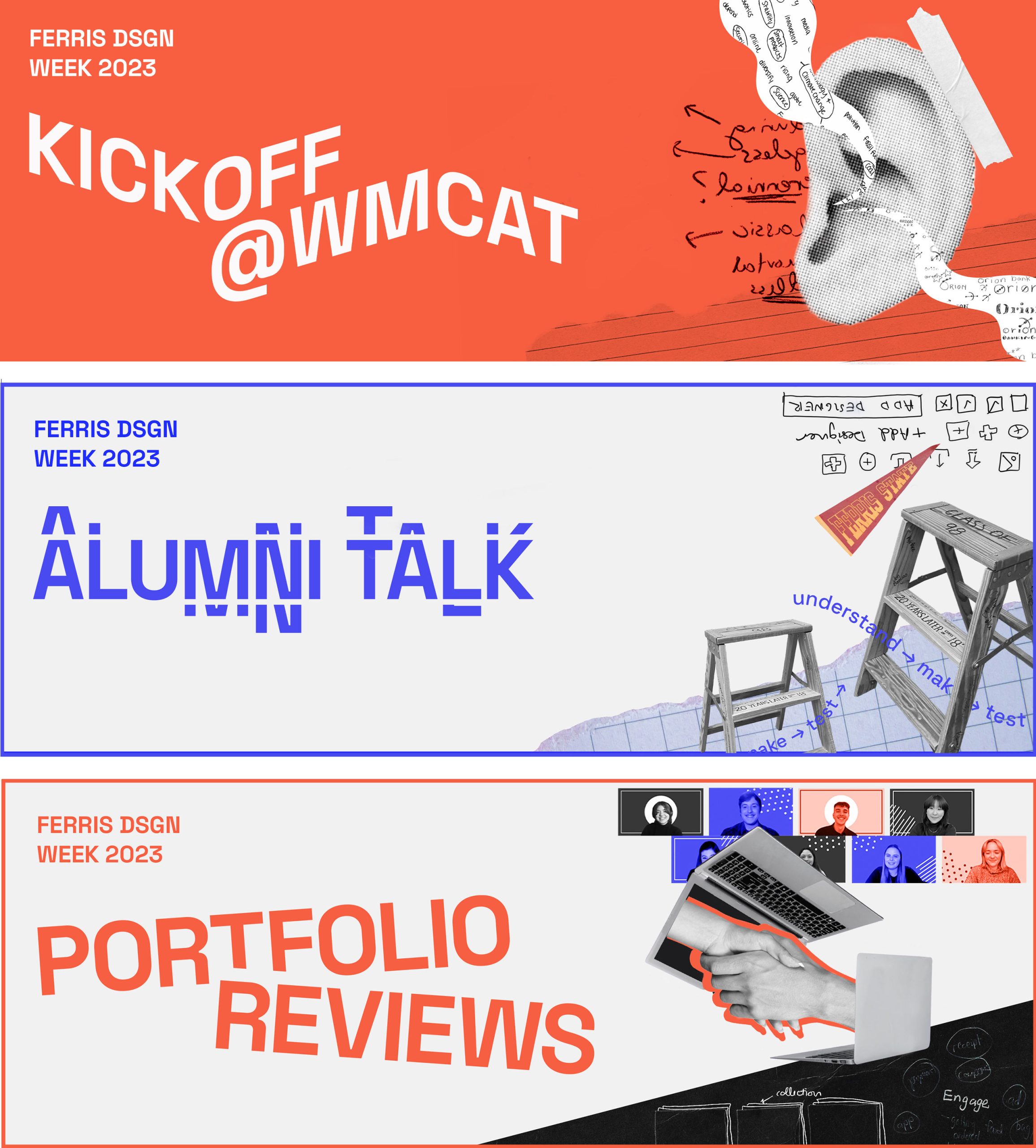 For each of the three DSGN Week events, we used different colors and graphics to separate them from one another.
The Kickoff @WMCAT was designed using all red backgrounds, white text, imagery of ears (symbolizing the keynote talks), and keynote speaker collages.
Our team designed signage for the event space to help guests find their way to the main doorway, gallery space (where student work is displayed), training room (where keynote talks took place), and food.
Senior students at WMCAT displayed their work on large boards with their names attached.

The WMCAT Kickoff was successful and the seniors were able to network and show off their work to lots of design professionals.
The Alumni talk visuals were designed using a neutral background, blue text, and imagery that would resonate with past graduates of the Ferris Program. 
The online portfolio reviews were designed with neutral backgrounds, red text, and imagery of handshakes (symbolizing networking), Zoom references, and technology.
After all of the DSGN Week events concluded, our team created a Formstack Feedback form that guests could fill out to let us know how they enjoyed the events.
To acknowledge Ferris DSGN Week and document the keynote presentations and alumni sessions, the DSGN Program site was updated to capture the events.