Band-Aid
Junior project
Fall 2016
Designers: Jen Bancino & Kyle Rice
Variety pack contents are also very disorganized and contents are not easily identifiable. This creates a struggle for the consumer that needs to quickly find the right bandage in an emergency.
To provide ease-of-use in emergency situations as well as provide separation and clarity on each Band-Aid bandage to grant certainty. Also, a re-design of the structure, layout, and hierarchy of information will provide a quickly identifiable solution and meet consumer needs.
CONSIDERATION 1: DISORGANIZATION
Variety pack contents are not easily identifiable. When opening a Band-Aid bandage variety pack (and any other competitor at that matter), the contents are separated but have no mechanism within the box to keep them organized and no easy way to identify each bandage type.
CONSIDERATION 2: UNCLEAR PACKAGING
Along with Band-Aid variety packs being disorganized, their individual bandage wrappers are also unclear. Providing clarity on which size is which would add clarity in an emergency situation.
CONSIDERATION 3: SHELF PROMINENCE
The PDP of most Band-Aid packaging and bandage competitors include a lot of visual noise which overwhelms consumers. Also, most bandage packaging includes blues and greens. There isn't much variety within the product packaging.
SKETCHES
Brainstorming and rough sketch were conducted to explore various visual strategies that would provide consumers with an easily functional package and one that catches the consumers attention.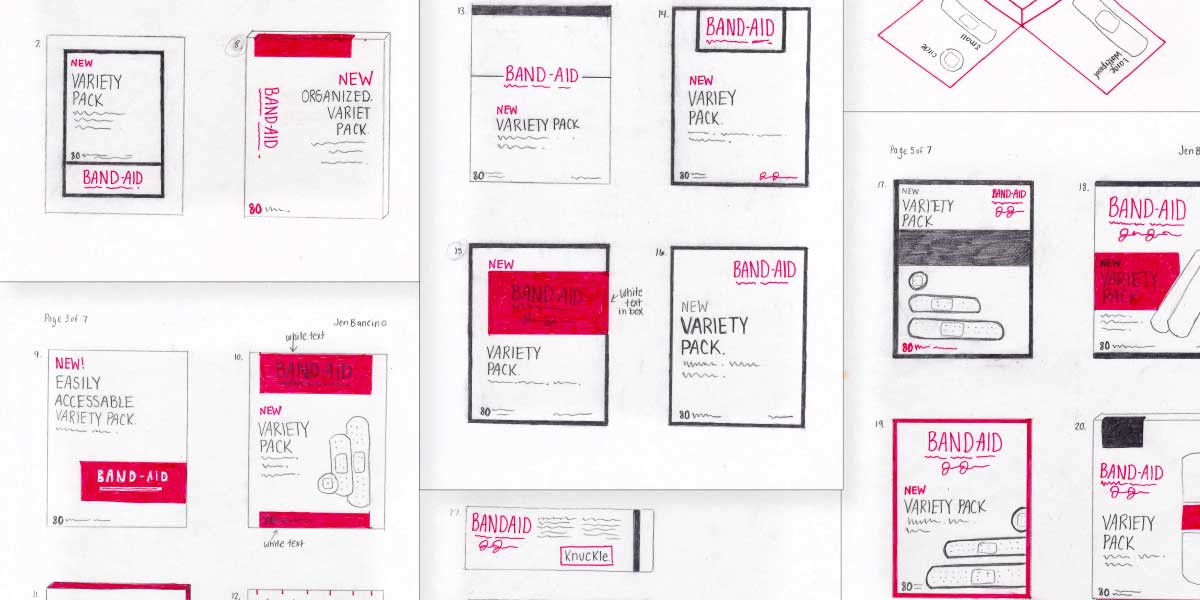 THUMBNAILS
By creating refined thumbnails, PDP clarity, information, and functionality were analyzed to choose the most visually appealing approaches to continue the package design investigation.

COMPUTER ITERATIONS
The most successful and dynamic thumbnails were now brought to the screen to more closely assess their functionality, readability, and overall effectiveness using design principles.
PROTOTYPES
Basic shells of the design were created to test the functionality of the package. After completing rounds of paper dummies, further prototypes were produced to check readability and measurements.
FINAL PROTOTYPE
The primary need we found beginning this project was a product typically used in emergencies or time-sensitive situations to be accessible, and the variety Band-Aid packages fell short of being user-friendly and accessible. After speaking with test subjects presented with our proposed prototype, we found that we solved the issue of disorganization and accessibility. But, we did find other shortcomings that were additionally presented that I moved forward with to alleviate those pain points.